Comfort zone challenges to spark creativity and inspire adventure.
I'd like to thank the author, Jed Stoneham, for sending me a copy of his journal. I received this journal in exchange for an unbiased review. I also received an extra copy to giveaway and that information can be found at the end of the post.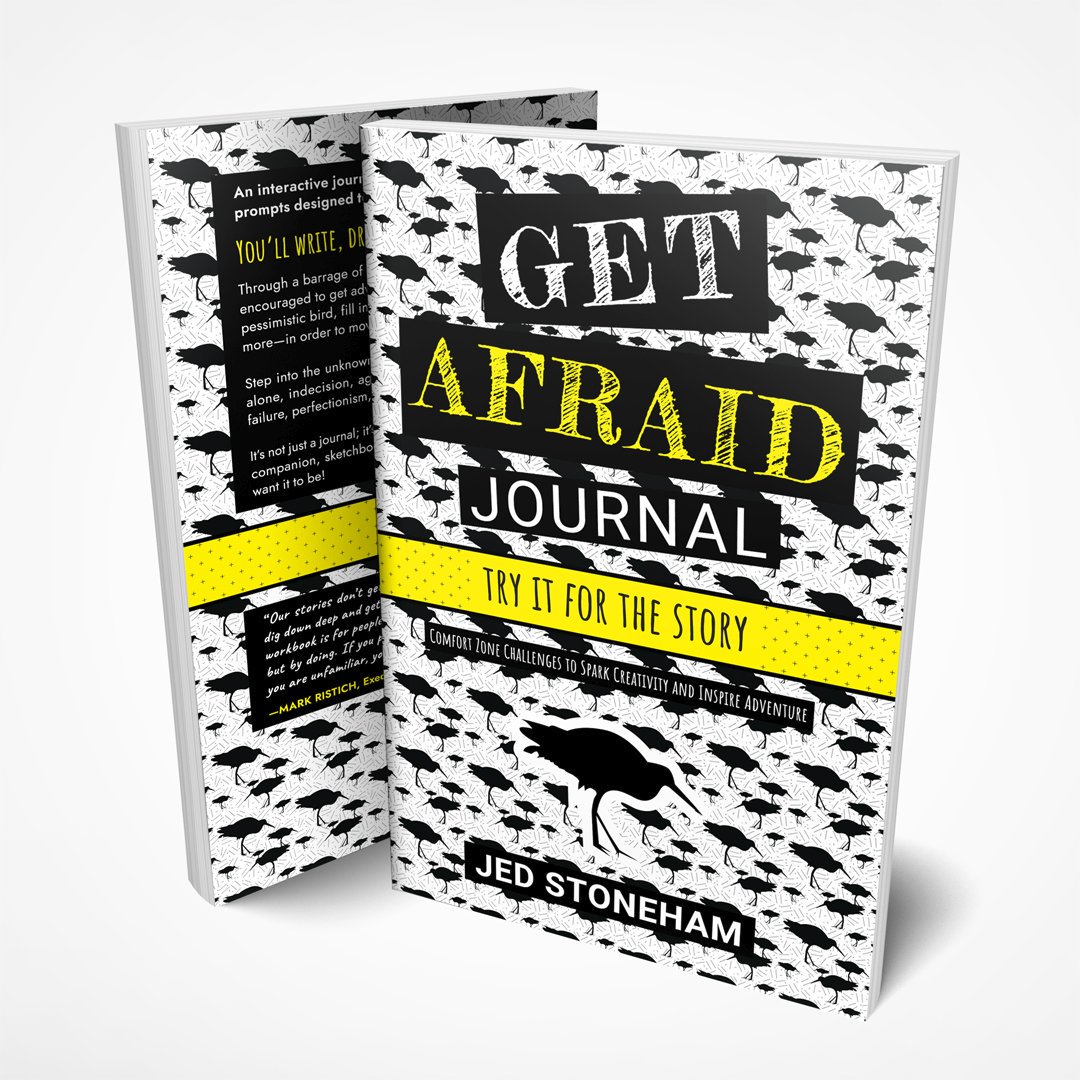 Get Afraid Journal
Try It for the Story—Comfort Zone Challenges to Spark Creativity and Inspire Adventure
Author: Jed Stoneham
Genre: Guided Journal, Interactive
Publication Date: October 18, 2019
Tagline:

Write, draw and trash your way through a series of challenges designed to expand your comfort zone.
Rating
Jed messaged me after reading another review post of mine where I talked about solo traveling, which happens to be a prompt in this journal. It starts off by letting you know what the journal is about and that there are no rules. You can follow the prompts in order or jump ahead to whatever piques your interest at the time.
It's an easy-to-carry, lightweight, and small enough book that can easily fit in your bag, which is a plus.
You may have done some of these things before. For example, I have gone to the movies alone, eaten alone, and gone a week without fast food. But I also never hugged three trees, watched the scariest movie from the year I was born (I wanted to do this, but the movies kind of sucked,) or drawn on a page and left it outside for a month.
This journal gets you going. It wants to take you out of your comfort zone, even by starting small, anyone can do any of these prompts.
The prompts range from going somewhere by yourself or expressing the things you regret and tearing the page up.
I also like the little bird that shows up every few pages to ask you if it's worth it. It's like that voice in your head that says, "You can't do that," or, "What if you embarrass yourself?" It's an extra push to try.
What I Tried
I wish I could've done more, but with work, wasn't able to try anything big like traveling. There are others I didn't add to this post, just because they're more personal prompts, and also, most of them involve tearing up the page.
Write A Very Bad Poem
I wrote this poem for my dog and had a lot of fun doing it. To be honest, I couldn't tell you the last time I wrote any kind of poem and to be even more honest, I think this is pretty good.
The Wiggle

Round and furry

Shaking at top speed

Swishing back and forth

She might've even peed

Toy in mouth

Her whole body jiggles

Open the door and be prepared

For the excited butt wiggle
Buy Your Favorite Childhood Snack: What kind of memories did it stir up?
Two of the snacks I remember eating in elementary school were Lunchables and Gushers, both of which I had, and both of which I still enjoy (especially the nacho Lunchable.)
The only memories I have are sitting in the cafeteria at lunch, comparing which Lunchables we brought for the day. I also remember still being hungry cause Lunchables aren't that filling.
Take A Cold Shower
Basically: I got used to it and would like to do it more often.
Blurbs
"Our stories don't get good, really good, until people dig down deep and get out of their comfort zone. This workbook is for people who learn not just by reading, but by doing. If you put yourself in situations where you are unfamiliar, your true voice will emerge."

-MARK RISTICH, Executive Producer of Snap Judgment
About the Author
Jed Stoneham is a designer and writer. In 2015, he started doing things he was afraid of for the podcast Man Afraid of Everything, recording every single worry along the way. He started small and worked his way up to improv comedy. Jed's a graduate of Bradley University and the Comedy Writing and Beginning Improv program at Second City Chicago. He currently resides in Chicago.
Website | Twitter | Instagram | Email
Giveaway 
This is the first giveaway I've done myself, so to start out small I am just making it open to US residents (I'll definitely do an international one in the future.)
To enter, leave a comment down below of what you've always been afraid to try and follow me on Twitter @meagan_lambert so I can message the winner.
Again, I'd like to thank Jed for sending me these copies. I honestly had so much fun reading through the prompts and deciding what I should try first. I'll continue to work on the journal throughout the year and hopefully, will buck up the courage to travel solo.
WHERE I TRY TO BE SOCIAL